Home Page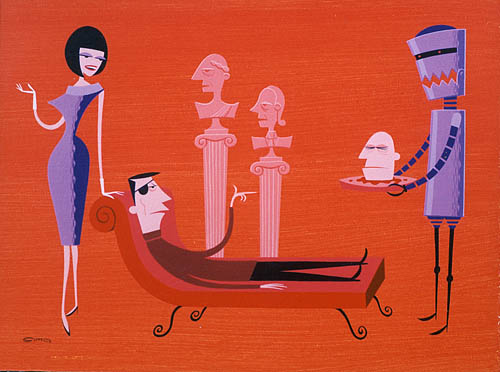 "NO, ELECTO'JAMES, NOT THE BALD ONE, I FEEL LIKE HAVING AN EVIL BAD HAIR DAY!". "OH, MR/DR/SIR/PROF EVIL! YOU ARE SO MASTERFUL IN YER COMMANDS! HOW CAN THE WORLD HOLD SO MUCH WRONG?!?"

---

Here is a page of some of Kevin Harrisson fans. I am sorry for the quality of some of these shots, our photograher had to take most of them from inside his Hide in order to catch this shower in their natural enviroment

If you have any photos of your self or friends that you belive have been affected by the Kevin Harrisson cult, send me the shots, SEND ME THE SHOTS........


Stead laying down the law to an unruly spectator at a Kevin Harrisson Rally against the illegal use of rubber tubing in the Boy Band industry.

The Great Sister of Sauvé Her self! Mrs B.Eatle, showing of what she claims she found hidden down the back of her deep freeze after an exteremly violent flatulant wind storm!

Many people belive that Kevin Harrisson can cure the sick and heal the wounded, and yes we are here to tell you that this is true! I have seen this with my very own eyes! This picture was taken just after Kevin Harrisson healed this little child from a terrible case of under arm shingles! What a guy!

Barbara photograped just before she handed Kevin Harrisson his award for outstanding excellance in the face of rampant coupon waving bargin hunters. If you look closely you can still see the steam rising from Babs gusset from the excitment of the evening, she really does need to leave the house some more, but is frightened after that incident with the Gibbons, and i'm sure we need not go down that road again, do we?

What we have here, although it may appear a little harsh is actucally to help this poor deranged woman! The mask was fitted after a Kevin Harrisson Road Show out side the Spar on the High Street. A large crowd started to gathered around 4.am, and continued to grow through the night, till it reached critical mass arond 7.am when the crowds numbered in their thousands. This lady had climbed to the top of a lamp post and, with the use of her teeth, held on for 3 hours till Kevin Harrisson was due to arrive to open the new Deep Freeze section in the Spar. The mask was fitted and she was removed from the area under heavy guard after raising her new Primark Print Dress and scattering her spoor upon the heads of the gatherd spectators. She was then given a two year stretch in the Nick and a packet of Jaffa cakes to share with her friends in the Air_Force. Sorry i got confused on the last bit, this person was never in the Air-Force, and extra 3 years have been added to her jail term, and i ate half of her Jaffa Cakes to punish her.

This twisted sister was photographed out side Boots singing Pornographic Country and Western style songs dedicated to the late great Kevin Harrisson. She was later arrested for indecently exposing her self to a crowd of Pensioners coming back from a day trip to Bangor, some of which were later charged with illegal Zimmer frame smuggling operations from as far back as 1923.

This machine invented by Mr B.Smart from deepest Wicklow has pretentions of TIME TRAVEL!. Mr B.Smart claims that entering the machine and being spun at a constant speed n,n,w, will bring you to the exact time of Kevin Harrisson's birth, circa 1785, "it also", followed on Mr.Smart, "makes you throw like a Good'un Boyo, Yes sir, so it will!". Mr B.Smart has later been arrested for inciting violent vomiting in a number of people, myself included, stupid enough to pay him the £300 fee charged for the journey to the PAST! Mr B. Smart is currently being held at MY pleasure in a small hole in the ground somewhere off the M 16!

this young raggamuffin made millions in the Hair Oil business by selling a brand of Hair Care products, apparently employed by Kevin Harrisson. We here at the Cult of Kevin were doubtful as to if our leader would stoop to such a level as to use this Devils Brew.......And we were Correct! After tailing this Crook for 40 days and 40 nights we caught him on tape at his Bottling Plant, just round the corner from Maggies Chipper, great value for Pasties after 6.P.M. His team of "Bottlers" systematicaly drained his Oxters for Discharge of the Foulest kind, which he then sold to un-suspecting Fans of Kevin Harrisson.
This stunning image has been sighted hovering over the City of Belfast. Some sensationalist Local NewsPaper had it pegged as a Natural occurrence, but, we at the Cult of Kevin are here to tell you otherwise! I seen them doin' it! They were about 11/2 feet tall with large feet and and a surly expression! I stayed hidden in the under growth till almost dawn when they came! Walking through the early morning mist, trailing their oversized Blue Bags behind, as they got to work, molding and shaping this majestic mountain top to resemble the Great Kevin Harrisson!
Spot the Taxi! Flag down this attractive travel accessory and he will drive you to our Top Secret Kevin Harrisson Observation Tower.